While sports are taken very seriously, there are enough funny moments to be found, and you don't even have to look too hard to find them.
Lance Stephenson might be the star of this gif gallery – from his ability to annoy LeBron James to his once memorable moment as a Charlotte Hornet. Glen Davis is another comedic genius, be it by purpose or not. Fans, Carmelo Anthony and even Vince McMahon, who has nothing to do with the league, made the list, which is about moments that make you smile, and not think too hard about lineups, analytics and box scores.
Lance Stephenson blowing in LeBron's ear
Wrong knee, Michael Beasley
Glen Davis trying to touch his nose with his tongue
The Doc Rivers WTF face
Dirk Nowitzki has time to smile before sinking shots
Kobe Bryant doesn't flinch
Larry Bird's deal-with-it moment
Lakers douchebag fan
Lakers bench reacting to a Shannon Brown replay
Lance Stephenson out of nowhere
Ricky Rubio doesn't understand Nikola Pekovic
Ramon Sessions getting "molested" by a fan
At least the Nets have one passionate fan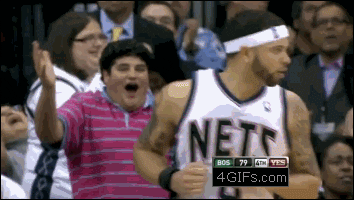 David Stern choking on water
Vince McMahon loves watching the Spurs
Carmelo can't believe how bad the Knicks are
Kevin McHale strong or James Harden soft?
The Triple flop
The perfect reverse gif of DeMarcus Cousins & Mike Malone
Blake Griffin is still waiting for Chris Paul to notice him
Glen Davis needs someone to blow his nose
Advertisement