It's not that surprising that the Miami Heat lost to the Memphis Grizzlies 107-102; it's an acceptable road loss. However, the timing of it was awful, costing them the top spot in the Eastern conference, and all of the points LeBron James scored really didn't make a difference.
James with 37 points, completing another season with over 2000 total points (ninth for him in his career), was good enough for a strong first half from Miami. But the Memphis defense came alive in the second half ans scoring 23 points on the fast break overall, finding it very easy to get in the paint, finishing with 60 points.
The Indiana Pacers won, which means that both Miami and Indiana have a similar 53-25 record. Right now Indiana have a better head-to-head, but the two teams still have a game to play over the weekend. The Pacers also have the better conference record, which means the Heat need to finish with the better record to get the top spot in the conference. Being only 22-17 away from home this season, this clearly shows how big of a deal finishing on top is.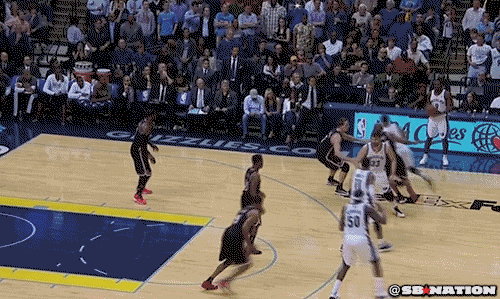 Zach Randolph was close to unstoppable with the Heat having no one to guard him. The Greg Oden experiment hasn't really succeeded so far, and not having someone like him to put a body on Randolph allowed the big man to score 25 points on 80% from the field along with 11 rebounds. Mike Conley led the team scoring 26 points and along with Courtney Lee his three times from beyond the arc. Marc Gasol was also huge with 20 points and 14 rebounds, including some impressive passing skills.
The Heat are banged up, or simply resting players. No Udonis Haslem, no Chris Andersen, no Michael Beasley and Dwyane Wade obviously, who might be resting until this season ends. Besides James there wasn't too much offense on the team: 17 points, quite a surprise, from Rashard Lewis, while Chris Bosh continues to misfire, this time with 13 points, and Mario Chalmers helping out with 12. Not enough, in another example of how an excellent LeBron James games isn't enough for the Heat against a certain level of competition.
You rarely see a team shoot so well – the Heat were 52.1% from the field and 60% from beyond the arc and still lose. However, Miami have shown defensive problems and a tendency to look less than intelligent on offense over the last couple of games, and the turnovers late in the game pretty much decided it in favor of Memphis, and might prove to be costly as to where they finish at the end of the season.
Memphis have other things to worry about, and their win keeps them 9th in the Western conference, needing both the Suns and the Mavs to slip up in order to overtake one of them for a playoff spot.
Advertisement