When it comes to highlights, no team in the NBA can put up so many in one game like the Los Angeles Clippers with the aerial duo of Blake Griffin and DeAndre Jordan. But when it comes to basketball, and having a player that can win the game like he hasn't just had an awful shooting night? The Oklahoma City Thunder, with Kevin Durant and a lot of Russell Westbrook, have the edge there, winning 107-101.
It was a rough shooting night for Durant in a game with plenty of bad blood, as always, between two teams that dislike each other although we haven't seen them in the playoffs together, yet. With the Thunder closer to clinching the two-spot in the West and the Clippers looking like a three seed right now, we might just get our wish and see the two teams in four to seven games in the span of two weeks.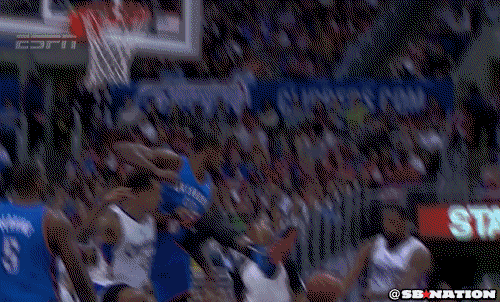 Westbrook had a great game, scoring 30 points, grabbing 11 rebounds and 6 assists. He was wild, but it worked, which makes him and Scott Brooks look like geniuses. When his style of recklessly shooting and attacking the basket while ignoring the actual scenario on the possession around him, the two don't seem that smart. And when things don't work they have Kevin Durant to seal the deal.
It was a rough game for Durant, scoring 27 points but shooting only 8-of-26 from the field including 1-of-7 from beyond the arc. But he chose to hit that three pointer at the perfect moment, as the Clippers managed to pull the lead down to two points. Durant backed down Matt Barnes a bit and simply turned around, hitting a long, huge three to give the Thunder a five point lead with 1:33 to go. That's Durant – it has nothing to do with the "right" basketball or a good game, but simply being a player whose success mostly depends on him, and not whether or not he's facing a good defender or a smart defensive scheme.
Chris Paul hit two huge threes late in the fourth quarter to pull the Clippers back within a possession in a game they trailed in from pretty much the opening minute. He scored 25 points and Blake Griffin had 30. DeAndre Jordan had a couple of huge dunks, including that completely wrecked Serge Ibaka, but his double double (10 points, 12 rebounds) wasn't as important as his misses from the line (2-of-8) or looking limited once again when it's not a dunk he has to execute.
Right now, the Thunder are the better team thanks to the Durant factor. The two teams are evenly matches and finished the season series at 2-2. It feels like this might be one of the best series we're going to have in the postseason if the two stay where they are, finishing 2 and 3.
Advertisement