This is turning out to be quite an impressive stretch for the Orlando Magic, taking down the two conference leaders in the span of three days: First the Oklahoma City Thunder with a buzzer beating dunk and then the Indiana Pacers, as Victor Oladipo brings his team back from way behind to win the game backed by an impressive fourth quarter from the rookie.
Oladipo scored 23 points, 13 of them coming in the fourth quarter to spark the comeback and a 93-92 win. The Pacers had a shot at winning it in the final seconds: The Magic turned the ball over on an inbound pass with nine seconds to go, but George couldn't get a good shot off and missed one after plenty of contact to keep the win in Orlando.
Today going into the fourth quarter coach just simply told us whoever plays hard is going to win the game. 'If you really want to win, you'll play harder than them.' That second unit played hard, played together, and most of all we just played D, let our defense juice our offense.
Orlando outscored Indiana 29-18 in the final quarter, as more questions about the Pacers' offense came to light, not to mention their issues with an inconsistent and untrustworthy bench. Indiana had only 17 points from their bench, shooting 6-of-22 from the field. It's OK to lose games, and the Pacers can afford a slip up or two, but thinking ahead about the playoffs, not getting any kind of offensive support from Danny Granger and Luis Scola is too much for them to concede. Maybe Andrew Bynum will change that.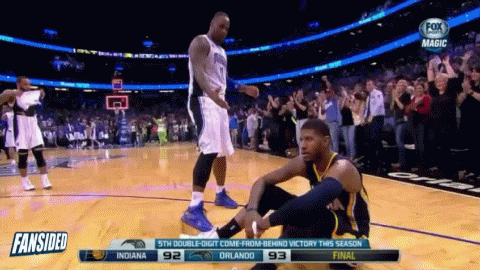 The Magic got an excellent game from Nikola Vucevic, scoring 19 points and bringing down 13 rebounds. He didn't have the easiest time against Roy Hibbert, but it helps to have Glen Davis doing some of the battles for you.
Davis got dunked on by Paul George early in the game which is making its rounds in highlight reels across the web. At the end of the game he offered Paul George a hand to get up, but the Pacers' star refused the handshake for some reason, make of it what you will.
The Pacers aren't derailed by this loss, only slightly stunned and confused. It doesn't mean they're losing the top spot in the East. With their starting five, they're good enough to dominate in the East even if their bench is extremely disappointing so far.
We've got to handle it. There was a stretch there in the third where we could have put them away. We were a little careless with some possessions and it was costly. This is obviously a game we got to take care of, but we are still positive. It happens. We just have to do a better job and learn from this.
As for the Magic? This was another correct step towards building an identity, an attitude and hopefully a winning culture with some of these players heading into the future. It doesn't happen at once, but these kind of wins and performances from rookies is what you set as foundations for future success as a franchise trying to become relevant again.
Advertisement