24 hours after Serena Williams failed in her bid to tie the Grand Slam title record, Rafael Nadal inched one championship closer to sharing the historic lead.
Serena Williams: The Wrong Kind of Streak
A 4th consecutive Grand Slam final loss for Williams since returning to Tennis. This year, without the controversy of the 2018 US Open final, with Williams stealing the spotlight from Naomi Osaka for all the wrong reasons.
The thread connecting her losses to Angelique Kerber (2018 Wimbledon), Osaka (2018 US Open), Simona Halep (2019 Wimbledon) and the most recent one, to Bianca Andreescu?
The fact that Williams didn't just lose. She hasn't been able to even win a set, and if it wasn't for the short comeback in the second set against Andreescu, it would have been quite a whimper.
Is the number, 24, haunting Serena? Perhaps. There's more to her struggles in major finals over the last two calendar years than just physicality or technique. Yes, she's 37, and perhaps the toll of two weeks mean more at that age than for other players, especially teenagers. But there are more question marks around Williams' struggles when it matters the most than definite answers.
Rafael Nadal: One More to Go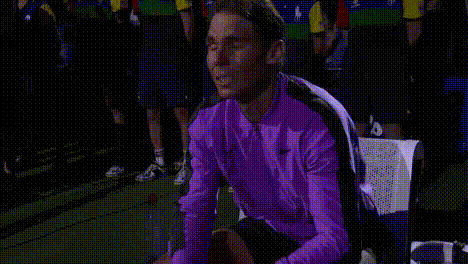 For the second time in three years, Nadal finishes the Grand Slam circuit with 2 titles (both in France and New York) and 3 finals (both of them losses in Australia). It puts him at 19 Grand Slam titles. It doesn't matter that 12 of them are Roland Garros trophies. He's one title short of making things all even with Federer at the top of the heap with 20.
How likely is he to hit that mark? Very. Djokovic is probably still looking likely to surpass both him and Federer when it's all said and done. However, assumptions regarding the career trajectory of all three legends have been proven wrong time and time again.
Nadal ended up fighting much harder for number 19 than the early going of the match suggested. Daniil Medvedev turned it from a one-sided affair into one of the best US Open finals in memory. Is he the "Next Gen" player to make the long-awaited breakthrough, from promising prodigy into Grand Slam champion? Maybe. But not this time.
Nadal lasted the almost-5-hour marathon, making it his first Grand Slam title following a 5-set final (He lost in 2017 to Federer in a 5-set Aussie Open finale). The tears that came moments later can be interpreted in many ways. It was hard not to get caught up in the moment, his moment.
Images via ATP facebook page
Advertisement