No group of death per say, but two groups that seem very interesting in terms of their nostalgic value or parity. Group H, with Barcelona, AC Milan, Ajax (stuck in a tough group again) and Celtic, while the group with Arsenal, Dortmund, Marseille and Napoli seems like the most difficult one to predict it's outcome.
As usual, Manchester United find themselves in a very comfortable draw next to Shakhtar, Leverkusen and Sociedad, while Bayern Munich aren't complaining with CSKA Moscow, Manchester City and Viktoria Plzen.
Group A – Manchester United, Shakhtar Donetsk, Bayer Leverkusen, Real Sociedad
Manchester United don't have an easy group, but not a too tough one as well. Shakhtar Donetsk and Leverkusen are weakened compared to last season, which makes the battle for second place, with Sociedad also in the mix, wide open, while United should finish first not too comfortably.
Group B – Real Madrid, Juventus, Galatasaray, FC Copenhagen
The Real Madrid vs Juventus clash is quite intriguing, although Real are probably the favorites to finish first in this one, with Juventus almost definite to finish second, while it's hard to see Galatasaray and certainly not Copenhagen reaching second.
Group C – Benfica, PSG, Olympiacos, Anderlecht
Despite being the second-tier team in the group, PSG are huge favorites to finish on top of this one, while Benfica shouldn't have too much problem finishing above of a not too impressive Anderlecht and Olympiacos.
Group D – Bayern Munich, CSKA Moscow, Manchester City, Viktoria
For the second time in three years, Bayern Munich and Manchester City play each other in the Champions League. Bayern are favorites to finish first and City to come in second, but as we've learned, CSKA Moscow can be the surprising team to knock City out of the competition.
Group E – Chelsea, Schalke, FC Basel, Steaua
Of the first tier teams, Chelsea wound up with the easiest draw. Schalke are playing badly, Basel and Steaua aren't good enough to challenge them, although Basel can finish second despite the odds going against them.
Group F – Arsenal, Marseille, Dortmund, Napoli
A very similar group to the one Arsenal, Marseille and Dortmund were a part of two years ago. This time, Dortmund are favorites to finish on top, with Arsenal slightly above Napoli but it wouldn't be surprising to see the English side failing to qualify.
Group G – FC Porto, Atletico Madrid, Zenit, Austria Wien
The least interesting group of the competition, in which Atletico Madrid are probably the favorites to finish first, while Zenit and Porto will battle for the second place.
Group H – Barcelona, AC Milan, Ajax, Celtic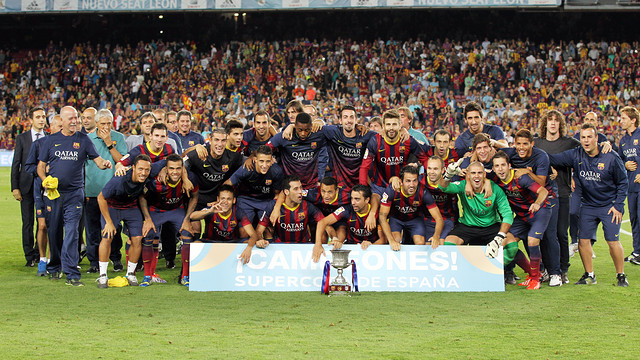 A nostalgic group, but Barcelona are much better than the rest. AC Milan should come in second, but Ajax are improving each season and should be the one to give the Italians the biggest challenge for the second spot.
Advertisement