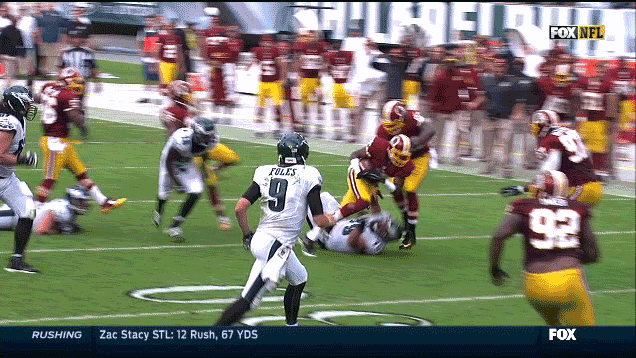 The Philadelphia Eagles are about making things complicated for themselves, once again climbing back from a double-digit deficit in order to pull off their third win this season, this time pulling through to beat the Washington Redskins 37-34, with a brawl in the fourth quarter after a cheap shot by Chris Baker not helping them at all, even though Kirk Cousins did pretty well as the starting quarterback.
With the game tied at 27-27, after an apparent interception (which was later overturned after a review), Baker slammed into Nick Foles' blindside, knocking the quarterback to the ground. The end result was Foles being fine and maybe earning some more respect from his teammates, while both Baker and Jason Peters of the Eagles were ejected from the game following a brawl that encompassed pretty much every player on the field.
The end of that drive was a touchdown pass from Foles to Jeremy Maclin. Foles finished with three touchdown passes and threw for 325 yards. Maclin, who missed all of last season, did very well with 8 receptions for 154 yards and a touchdown. Rookie wide receiver Jordan Matthews was just as good with two touchdown receptions on 8 catches with 59 yards.
The Redskins missed a rather easy field goal before the brawl, which seemed to even further offset them. After giving up the touchdown. Kirk Cousins, who until that point had already thrown three touchdown passes to DeSean Jackson, Pierre Garcon and Darrel Young, threw the interception that pretty much killed the game, the Redskins' only turnover of the game, picked off by Malcolm Jenkins. The Eagles scored a field goal, making it a two score game. The Redskins did score a touchdown but wasted their last chance with a three-and-out, punting away, and losing the game.
On the bright side, Cousins did prove that for now, he might be better suited than Griffin to start for the Redskins under the current offensive system. It doesn't matter while Griffin is out injured, but if Gruden is here to stay for the long run, it was an excellent indication of what's going to work and who is the man who'll be running the system. The Eagles are a year away from that kind of controversy, with Foles 100% sure of his status on the team. The deeper we go into the season, it seems as if he's more comfortable with that role.
DeSean Jackson had a big game against his former team. Not that it mattered. He finished with 117 yards and a touchdown reception, his first big game since making the switch inside the NFC East. The Eagles aren't exactly missing him thanks to Maclin's return and Matthews emerging as a very good second-round pickup out of Vanderbilt. Getting Chris Polk to score the team's first special teams touchdown since 2012 with a 102 yard return didn't hurt either.
It's hard to see the Redskins going far with this kind of defense. Their offense is good, but they almost give up points at will against capable offensive systems. The same might be said of the Eagles, but this team seems to have that extra gear, at least in the games we've seen so far, to make them seem almost untouchable when Foles and the passing game get going, even when LeSean McCoy and Darren Sproles aren't having a field day on the ground.
There are no moral victories in the NFL, but the Redskins don't have too much to feel bad about except for them losing a 10 point lead. The Eagles? They're getting better as we go, and if teams don't hit their stride until later in the season, it's quite remarkable to see them pulling off comeback after comeback while not being anywhere near their best.
Advertisement