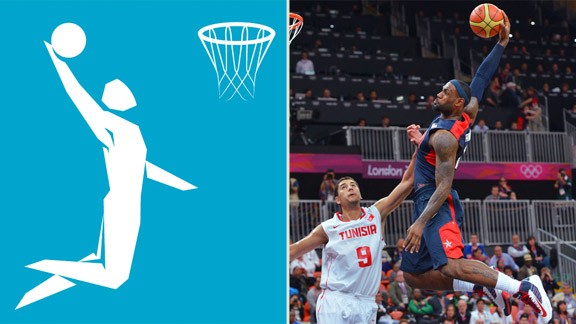 Instead of the outdated five rings that everyone knows and perhaps has grown tired of, why not take LeBron James dunking and turn that motion and moment in time into a new Olympic logo?
The actual logo on the left is one of the many made by British designers, SomeOne, creating a set of Pictograms for each sport. LeBron James' dunk against Tunisia actually seemed to capture the drawn moment rather well.
The Americans have so far gone unchallenged in the Olympics basketball tournament, beating France by 27 points in the opening game and then thrashing Tunisia 110-63, with no need for any of the superstars, including LeBron James, the NBA's reigning regular season and Finals' MVP, to really make much of an effort.
This is James' third visit to the Summer Olympics, coming up with bronze in 2004 (Athens) after his rookie season and winning the gold medal in 2008 (Beijing). Going by the early games in London, it's hard to see anyone putting up much of a fight to the 2012 Dream on their way to another gold medal.
Advertisement