Next on our list of World Cup previews is group E, with Brazil favored to finish ahead of their balanced and tough rivals for the qualifying spots: Switzerland, Costa Rica and Serbia.
Brazil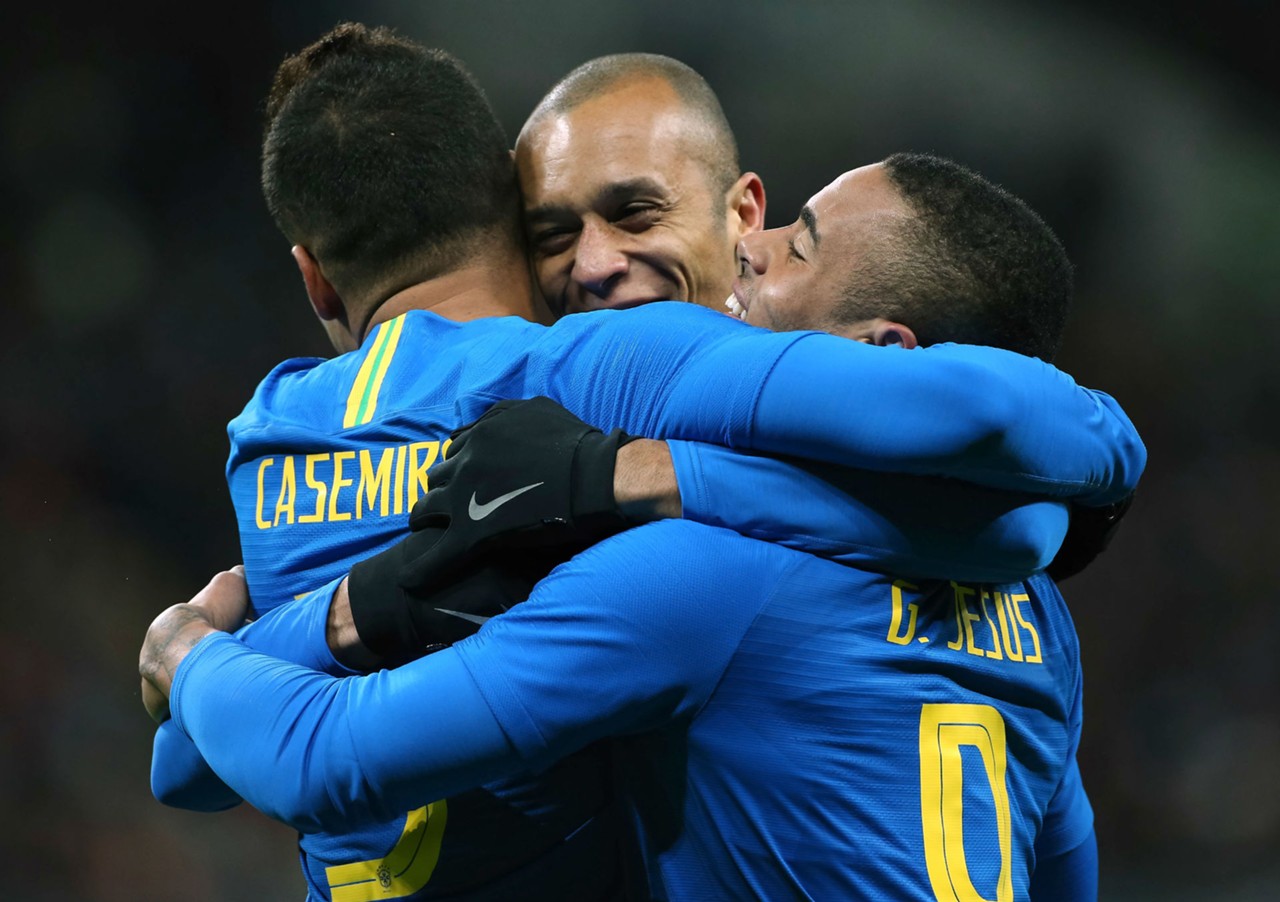 Unlike 2014, when Brazil was one of those favored to win the tournament because of history and their standing as hosts, the Selecao squad is truly one of the deepest and most balanced heading into the tournament, even if Neymar is far from 100% after not playing football since February due to injury.
Tite, who saved the side from the clutches of Dunga's boredom and negative football, has plenty to choose from in goal (Allison or Ederson), defense (with Marcelo and Fagner on the wings as the engine that needs to be covered), midfield (where Paulinho and Casemiro will likely tandem) and attack. Neymar is the top choice for the left side, playing behind Gabriel Jesus and next to Willian and Coutinho, but it's hard to deny the form Roberto Firmino is in this season, and the same can be said for Douglas Costa of Juventus.
If Brazil can find ways to cover for Marcelo and Fagner as they roam forward while avoiding mental meltdowns like in the famous 7-1 defeat against Germany four years ago, it's easy to see why so many think this side is the #1 favorite to win the World Cup in Russia.
Switzerland
Qualifying to their fourth consecutive World Cup, the Swiss made the round of 16 in two of their last three trips, as well as get past the group stage in Euro 2016. However, they barely made it in, controversially beating Northern Ireland in the UEFA qualifiers playoffs, and their lack of talent at the striker position along with a weak spine could mean an early exit this time.
Most of the talent Switzerland possess is on the wings. Xherdan Shaqiri is the one things flow through, with Steven Zuber of Hoffenheim on the opposite wing creating most of the chances. Stephan Lichtsteiner and Ricardo Rodrigues are two wing backs who love to venture forward and put pressure on a defense, which means more headaches for Granit Xhaka and whoever partners him in the middle (Remo Freuler???).
Up front, Haris Seferovic is the favorite to start, but he doesn't exactly exude scorer material after a poor season with Benfica. The heart of the defense isn't remarkable as well, and perhaps these flaws could mean going home earlier than expected.
Costa Rica
After a Cinderella-like quarterfinal appearance in 2014, Costa Rica has faith they can surprise again, even if it'll once again be an absolute shocker. Their qualifying run was impressive with a double win against the United States and a showcase of terrific defense, leaning on Keylor Navas, Kendall Watson, and a strong 5-in-the-back unit.
Their attacking options are a bit more limited or should we say rusty, whether it's Joel Campbell or Marco Urena that Oscar Ramirez chooses to stick with. Bryan Ruiz is in what is probably his last tournament, like Celso Borges, leading the side picked with 110 caps. Experienced, but perhaps slightly old (only 5 players under 28), with a difficult group, although that's not new to the second best team in Central America.
Serbia
Despite not making a major tournament since 2010, it's hard to disregard Serbia, for many something of a dark horse candidate to reach the final 8 in the tournament after winning Group D in the European qualifiers.
Leaving Wales, Austria and Ireland behind can be a big confidence builder. Serbia relies on a very experienced, perhaps too old defense that includes Aleksandar Kolarov and Ante Rukavina on the flanks. Head coach Mladen Krstajic only took over the job in October 2017, leaning on his predecessor's tactics more or less, with his main goal to create a strong as possible midfield, incorporating Nemanja Matic, Luka Milivojevic of Crystal Palace and rising star Sergej Milinkovic-Savic, one of the hottest transfer rumor names, on the same pitch.
Serbia also has a fine finisher in Aleksandar Mitrovic of Fulham (on loan there after struggling in the Premier League at Newcastle), but the main issues for the side will perhaps be their lack of pace, and their issues at times with switching gears.
Final Predictions
It's hard to see past Brazil in this group finishing first. Serbia only meet the Selecao in their final match, and many see their clash with Switzerland on June 22 as the decider for second place. Costa Rica will try to sneak past, as always. The results? Brazil first, Serbia second, Switzerland third and Costa Rica fourth.
Advertisement